CRAZY! So good. Couldn't find any guidance on adding pineapple to the sriracha and anchovies, but this was a definite F.O.
I did a little research (it was dinner time), and the anchovy butter recipes I found were NOT for anchovy lovers – SIX anchovies per CUBE of butter?  Jees, put some pablum in my bottle…  More on bottles later.
Charred some chunked pineapple (Goya frozen, had no fresh) under the broiler with a dab of coconut oil. Mashed the solids in a mortar and pestle, whisked it all together.
Here's my take:
4 Tbsp    (½ cube) unsalted butter, softened
9              anchovy fillets, minced
1 Tbsp    Sriracha or other chile sauce
1               garlic clove, minced
≈ 2 tsp    lemon or lime juice (depending on other flavors)
≈ 1 tsp    fish sauce
2-3 Tbsp    pineapple chunks, broiled with a little coconut oil
With a fork, mash together all the ingredients. Keep refrigerated for up to 1 week, or freeze.
On the NY steak, which was air-dried 5 days in the fridge (thank you, Mark Bittman):
Rubbed with some pomegranate molasses, lime and minced shallot, then sprinkled with garlic & onion powders. Finally encrusted with pink-green-white-Tasmanian peppercorns, crushed coriander, some salt but not too much because – ANCHOVY butter.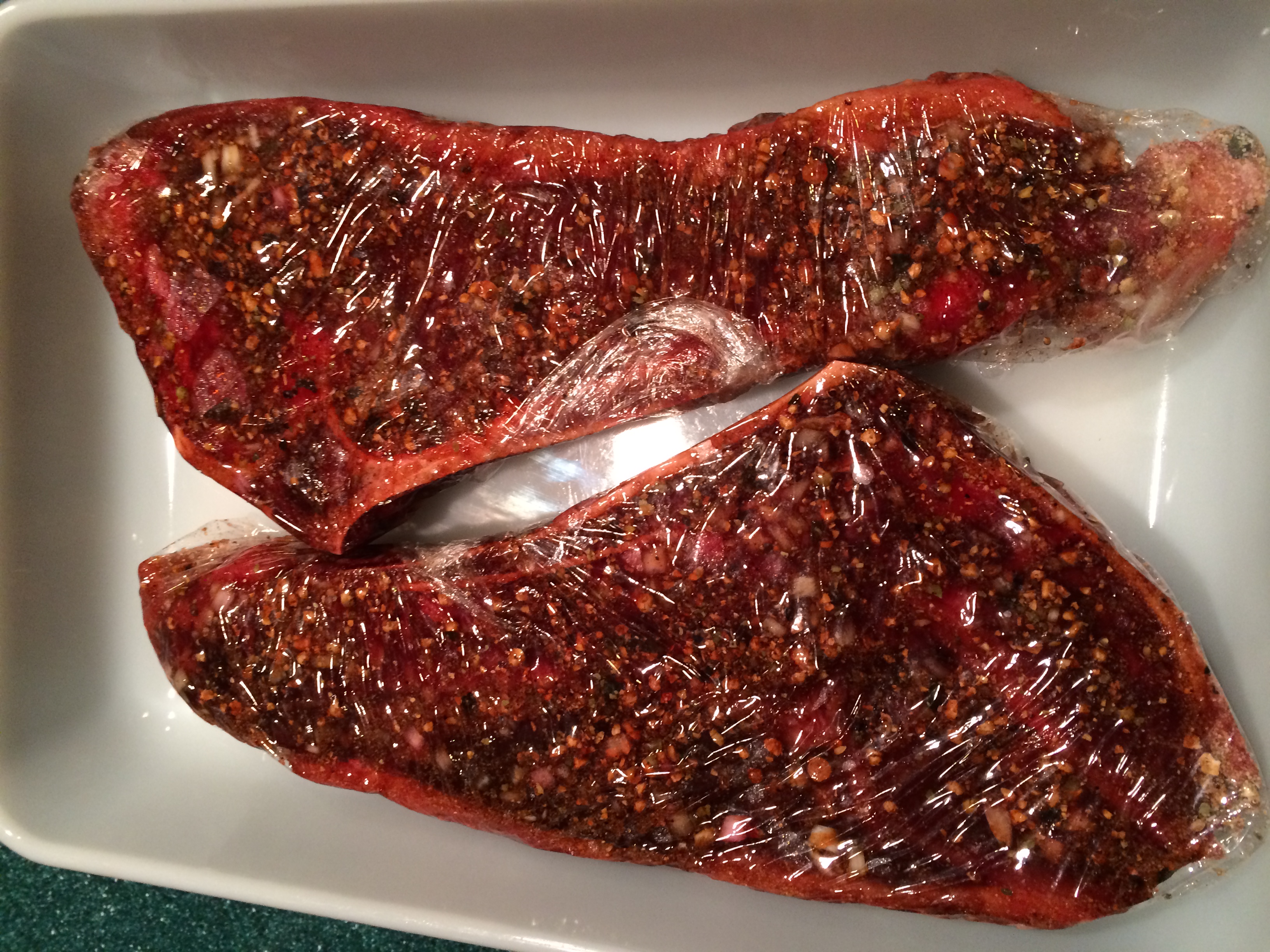 Sear on the barbie ~ voilá!
And, the wine? Ethan from Trader Joe's on Oracle here in Tucson sent the description below, which determined my pairing choice (Really! Their private label wines are ROCKIN' right now. Reminds me of 1978…). 
The best TJ wine department of all in the Old Pueblo, by the way…
And I quote,
 "Trader Joe's Reserve G.S.M. Blend 2012, Lot #96   Dry Creek Valley
Smooth & zesty with notes of bright strawberry, raspberry, and cherry. Hints of vanilla and spice leading to a juicy, well-balanced finish. This is a very special and interesting tasting bottle of wine. It is a blend of Syrah, Grenache, and Mourvèdre.  This wine is very good! Okay, this bottle of wine is very, very, good."
For me, this wine has that earthy, almost creamy gripping blackberry/raspberry style that Dry Creek Zins often have (not fruit-bomb material!). It was perfect with the steak. If you can't find this, I highly recommend a Laura Zahtila Zinfandel or Cabernet, and you will  be very happy. Here:
http://www.zahtilavineyards.com
Oh my gosh, it's dinnertime again!  Buona notte!
    Recipe by Valerie D. Verkerke – Gem Chef